INON ha desvelado su caja para el monitor Sony Live-View Remote RM-LVR3, que vienen con sus cámaras de acción Sony FDR-X3000R y Sony HDR-AS300R, dándonos la posibilidad de usar el monitor debajo del agua hasta una profundidad de 60m.
El montaje de la caja monitor se realiza mediante una base de INON diseñada para tal función, y que además permite el uso de lentes INON para mejorar el rendimiento óptico del conjunto.
La caja está perfectamente ajustada al tamaño del monitor y tan sólo permite encenderlo y apagarlo, de forma que el resto de funciones de la cámara se controlan desde la caja de la misma, como accesorio lleva incluido un parasol y nos dá la posibilidad del montaje de una lente para magnificar la imagen del monitor, esta opción es vía adaptador específico.
Estas cámaras de acción de Sony son una buena alternativa a la conocida Gorro Hero 5, no sólo por su versatilidad, sino por que el estabilizador de imagen que presentan trabaja mejor que el de la última Hero, según los test existentes.
Os dejo la información reflejada en la página de INON.
---
PRESS RELEASE
---
INON Inc. is pleased to announce official release of Monitor Housing for LVR3 on March 1st, 2017.
The Monitor Housing for LVR3 is a dedicated underwater housing attached on INON SD Mount Base UWH1(*2) to use Sony Live-View Remote RM-LVR3(*1) which is bundled with Sony Action Cam FDR-X3000R(*1)/HDR-AS300R(*1).
Monitor Housing for LVR3(*2)(*3)
Release date: March 1st, 2017
JAN Code: 456212143 841 5
Left: Monitor Housing for LVR3 front, Center: Monitor Housing for LVR3 with packaged Shade Hood, Right: Monitor Housing for LVR3 back
Monitor Housing for LVR3 + SD Mount Base UWH1 + MPK-UWH1 / FDR-X3000R(HDR-AS300R)
(*1) Contact Sony Marketing Inc. for detail of camera / Live-View Remote. INON Inc. confirms product compatibility based on a camera available in Japan.
(*2) Live-View Remote is only usable when the housing is appropriately attached on SD Mount Base UWH1. Otherwise Wi-Fi connection between the remote/camera will be disconnected.
(*3) On/stand by button is only accessible. Start/stop recording and change camera setting need to be controlled by camera side.
Please also refer to related news below
Accessory for Sony FDR-X3000, HDR-AS300 / MPK-UWH1 (October 27, 2016)
http://inonnews.blogspot.jp/2016/10/accessory-for-sonyfdrx3000mpk-uwh1.html
Compatible Products
Sony FDR-X3000R/MPK-UWH1 + INON SD Mount Base UWH1
Sony HDR-AS300R/MPK-UWH1 + INON SD Mount Base UWH1
(*This product is only compatible with Live-View Remote Kit)
Monitor Housing for LVR3 Features
Simply yet rigid cylinder shape underwater housing with 60m (197ft) depth rating supporting power switch operation.
This product is attached on the SD Mount Base UWH1 to use the live-view monitor underwater.
Packaged Shade Hood suppresses reflection of the monitor supporting comfortable visual contact even in bright conditions. The Shade Hood is removable as necessary.
The Shade Hood is equipped with 360 degree rotatable flange to cut unnecessary ambient light from any direction.
The lid has conventional M52 screw mount enabling to attach INON UCL-165 M67/UCL-330 close-up lens via optional Step-up Ring 52-67 to magnify the monitor image. (*4)
Monitor Housing for LVR3 Specifications
Outer diameter/length: φ80.2mm(3.16in)x36.1mm(1.42in)
(excluding protruded parts): φ80.2mm(3.16in)×71.8mm(2.83in) with packaged Shade Hood
Weight (including LVR3): 207g(7.3oz)[air] / Approx.65g(2.3oz)[underwater] 237g(8.4oz)[air] / Approx.80g(2.8oz)[underwater] with packaged Shade Hood
Depth rating: 60m (197ft)
Body material/finishing: Corrosion resistant aluminum alloy/rigid black alumite/PC, etc.
Monitor glass: Optical glass / anti-reflection coating
(*4) Attaching the UCL-165M67magnifies monitor image by approx.15% and UCL-330magnifies by approx.8%.  Using more powerful lens than the 「UCL-165M67」will have vignetting on image corners.
Installation
Easy installation: Place Live-View Remote in the housing and close the lid

Fixed with packaged 2 x cap screws
Set-up Example
Sony FDR-X3000R(HDR-AS300R) + SonyMPK-UWH1
SD Mount Base UWH1 (with packaged Mount Adapter for SD Mount Base/SD Front Mask)
UFL-G140 SD
D Holder (*Single D Holder can be attached on either side)
Monitor Housing for LVR3
Sony FDR-X3000R(HDR-AS300R) + Sony MPK-UWH1
SD Mount Base UWH1 (with packaged Mount Adapter for SD Mount Base/SD Front Mask)
UFL-G140 SD
D Holder
Direct Base YS RT
Single Light Holder LF
LF2700-W
Monitor Housing for LVR3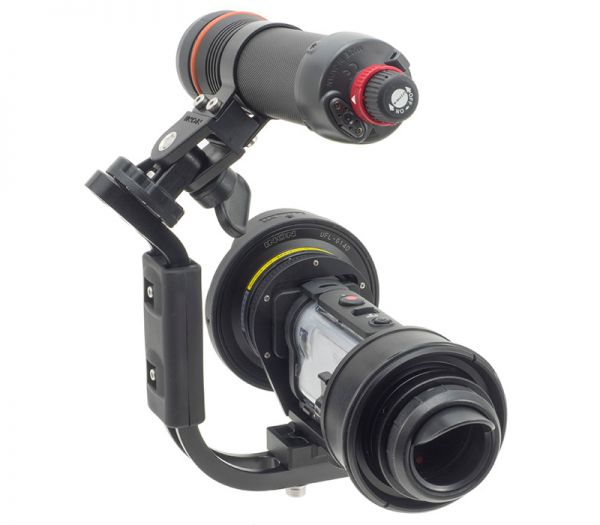 Sony FDR-X3000R(HDR-AS300R) + Sony MPK-UWH1
SD Mount Base UWH1 (with packaged Mount Adapter for SD Mount Base/SD Front Mask)
UFL-G140 SD
D Holder
Direct Base YS RT
Single Light Holder LF
LF2700-W
Monitor Housing for LVR3 (With packaged Shade Hood)
Sony FDR-X3000R(HDR-AS300R) + Sony MPK-UWH1
SD Mount Base UWH1 (with packaged Mount Adapter for SD Mount Base/SD Front Mask)
UFL-G140 SD
D Holder
Direct Base YS RT
Single Light Holder LF
LF2700-W
Monitor Housing for LVR3
Step-up Ring 52-67
UCL-165M67 or UCL-330